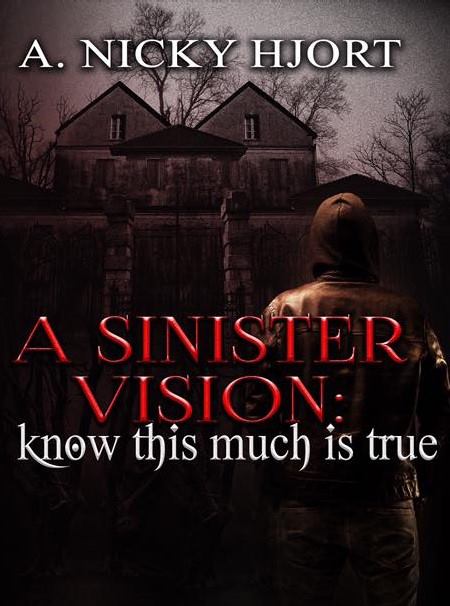 If you asked me to get dog down dirty honest and tell you what A Sinister Vision: Know This Much Is True, the second in The Sinister Series is really about… I would probably smile and hesitate for a moment before I offered you my answer. And much like this actual narrative, my description of it would come in layers–more superficial at first and deeper and deeper until you had heard enough. To be fair, I wrote it and I leave it with a new message every time I flip through the pages myself. How is that possible? I guess you'll have it read it (maybe ten times) to find out.
So here goes…
A Sinister Vision is a thriller at heart. It aims to exhilarate and terrify you. Why? Because us humans are fabulously sick and twisted, and we love to be stimulated in every possible way. Through imagined terror is one of those ways. This book shall not fail you if that is what you seek to experience while you read it
It is also a romance, a beautiful love story on multiple levels. And there are tender scenes and well… let's just say… bedroom scenes that will stay with you for a while.
It is a paranormal tale from which you can learn a whole lot about astral travel and the like. And should you wonder if you've ever had a vision, I expect Elise Phillips and Levi Blackwater can walk you through the answers… Read on please.
It reveals the underbelly of medical education and allows you to experience the abuse and deceit that is alive and well in the machine that educates your doctors to this day. It will shock you how we are taught to lose our humanity to care for humanity and offers a few thoughts about how we might change that and do better before there are no "good" doctors left. We are leaving medicine in droves, find out why.
Moving on….Let's take it down (or is it up?) a notch.
It is a story about facing our fears and owning our past so that we can experience a future we truly want. It reveals the true power of Now.
It is about finding the most beautiful gifts in the most terrible places. For example, Elise Phillips my main character might say, "That thing you really really want but hardly ever talk about? And that thing that terrifies you more than all the others? The later will be the only way you find the former." Think about that. What do you want? And where will you find it? Let her show you…. Read on, yah.
It is about the worst most evil bad guys, who do not actually realize they are bad guys. They are heroes in their own story. The only way we can help them is by re-writing that story. New story. New heroes. Think about that… read on, double yah.
It is about wicked hot sex… the best kind, the intimate kind. The kind where there is no place where one of you ends and the other begins. Yes that kind. Read on…
Let's take it down (or is it up?) the next notch please:
It is about reminding you of the power of your personal truth. There are some things you cannot possibly know but just do… right? Or things you feel so clearly that you experience them in the marrow of your bones. Those things. Close your eyes and remind yourself of five things that you know to be true… I'll go first and not censor my immediate responses as I type this.
1.)   My children are absolutely the best parts of me expressed as living beings and they are the most valuable gifts I have ever been given. And when it is all said and done they will never, ever doubt that I loved them.
2.)   Most people are good. At their heart level most people want to be honest and loving and giving. When they act contrary to this… perhaps it is a call for more love… they are dying for more love. Just like you. Just like me. Maybe we are all one being trying to be loved?
3.)   My heart is finally open. Much like Elise Phillips the thing that has scared me more than all the others is love… like it is the last gruesome monster under my bed. And how can I be afraid of what and who I already am? If I love myself first and all the rest falls in place and all the monsters go away.
4.)   When I take my mask off I am even more beautiful than when I hide behind it. Authenticity and vulnerable are to be cherished, not feared.
5.)   The best desserts are simple: like a warm brownie and vanilla ice cream
What do you know to be true? In this story you will see the power of your honest dog dirty answer to that question.
… And might I leave you with one of the deepest levels of this story: you, my love, are the one teaching yourself all these silly little lessons. You can learn them through terrible pain like Jolene in this novel, strapped to a killer's torture device… or you can learn through love and joy… like Elise in this novel in the throws of passionate ecstasy with her delicious man, Blackwater. The choice is yours….
Now what to do while we are there ( I am a romance writer after all ha,ha)… that is: A Sinister Vision is it not? And I have decided what I pick: I Know This Much Is True.
What will you choose?
And when you find the deepest level, the only I included only for you… that no one else will get but you… write me, I'd love to hear what you know is true.

With love and gratitude abounding I leave you with one of my most favorite quotes and questions we can ask ourselves…
"So do all who live to see such times. But that is not for them to decide. All we have to decide is what to do with the time that is given to us. There are other forces at work in this world Frodo, besides the will of evil. Bilbo was meant to find the Ring. In which case, you were also meant to have it. And that is an encouraging thought." - Gandalf
--Tolkien,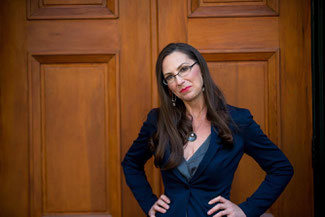 What ring, pray-tell, do you carry to the fire of Mordor?
Much love and love much,
A Nicky Hjort
www.anickyhjortbooks.com