Our Fall Line-Up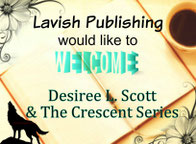 Desiree L. Scott
Desiree L. Scott has been writing since she was sixteen years old. There have been many influences within her life that has set her on the path that she cannot help but walk. She lives on 40 + acres in the SHOW ME state with her ten-year old daughter and four dogs. The weather is unpredictable, but the surrounding beauty of the country helps her creativity as she sits on her deck with her laptop and coffee close by. 
The Crescent Series
The Crescent Ice Pack, wolves by nature, are connected by blood, passion and survival. A target for something dark and sinister, deadlier than they had ever imagined, the group stands against a major fighting ring, stalking their territory and searching for clues to the top of the elusive chain. Their lives on the line, they must find and conquer one of their own kind before it's too late; before their last pup is captured and disappears forever. Coming this fall, do not miss the release of Travis and Vanessa's story with book 1 - The Crescent Vendetta. Each segment is written in standalone format, with exciting installments to follow!
Follow Desiree at these locations:
Blog: http://www.desireelscott.com/
Facebook: https://www.facebook.com/Author.Desiree.L.Scott/
Twitter: https://twitter.com/dlscottauthor
Instagram: https://www.instagram.com/d.scottauthor/?hl=en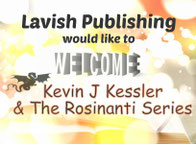 Kevin J. Kessler
Kevin J. Kessler lives in Orlando Florida, where he owns the White Dragon Podcast Network. A lifelong geek, he can often be found at the many theme parks and local attractions in Orlando. He developed the story for Rosinanti as a sophomore in high school, sixteen years before the book's release.
The Rosinanti Series
In this action/adventure fantasy, the Rosinanti Dragons are no more! Since their extinction nearly one thousand years ago, these primal powerhouses have fallen into the obscurity of history's forgotten lore. Humans have come to dominate the magical steam punk world of Terra, peacefully ignorant to one horrifying truth: ancient evil stirs around them, waiting to reclaim its lost world. Life-long friends, Princess Seraphina and Valentean Burai, must face down the resurgence of the Rosinanti legacy together, and combat the greatest threat their world has ever known. An amazing fantasy action thriller, look for book 1 of this amazing six-part series, coming this fall!
Follow Kevin at these locations:
Blog: www.authorkevinjkessler.com
Facebook: www.facebook.com/kevinjkesslerauthor
Twitter: @KevinJKessler
Instagram: @WhiteDragonPN
Fan Group: www.facebook.com/groups/rosinanti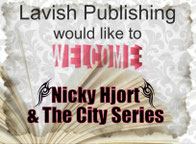 A. Nicky Hjort
A. Nicky Hjort is originally from the greater Dallas-Fort Worth area of Texas. She writes stories that cross multiple genre lines, from paranormal romance to Sci-Fi thrillers and back again. And in some subtle way, all of her manuscripts are connected, with their purpose to explore all facets of love and what it has to teach us. Her journey into writing began with her clinical background as a medical doctor when she wrote her first fictional short story about medicine. She hasn't stopped writing since.
The City Series
A futuristic Sci-fi at its best! Kidnapped and genetically altered, Isla-Jane-53 lives in a world where Ink enhanced with bacteria is used for tattooing warriors in a living video game. One of the inhabitants of The City, she is forced to her battle her fellow man, natural disasters, and vicious creatures, all for the pleasure of hidden viewers she has no idea exist. A fantastic trilogy, The City Series will thrill and excite in ways you cannot imagine. Look for book 1 – The Jane harvest, this fall!
Follow Nicky at these locations:
Blog: www.ANickyHjortBooks.com
Twitter: @A_NickyHjort
Facebook: https://www.facebook.com/Author.A.N.Hjort
Instagram: https://www.instagram.com/nickyhjort
#LavishPubs #NewReads #ComingSoon